Description
Compact and powerful Portable USB DAC/AMP.
Dual CS43131 DAC chips.
Truly balanced design with 4.4mm balanced output.
Supports high-resolution audio signal decoding.
Five digital filters to choose from.
Ring-Shaped RGB indicator.
Supports FiiO control application.
Connect with multiple devices including Android, Windows, macOS, etc.
Full FiiO Control App integration.
Hi-Res audio certified.
With the KA2, FiiO offers a powerful and affordable portable DAC and headphone amplifier combo, allowing you to enjoy the best possible sound quality both on the road and at home. The KA2 features a dual DAC conversion stage and an optimized architecture to deliver accurate and dynamic sound.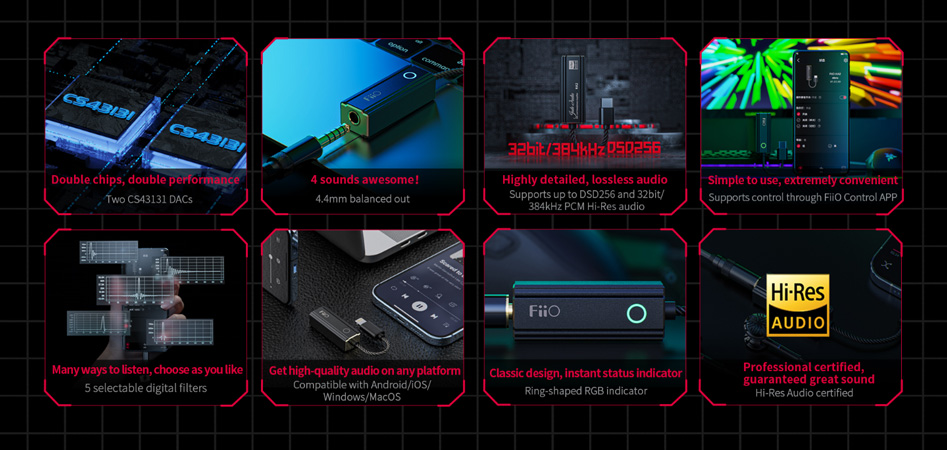 Dual CS43131 DAC
The digital-to-analogue conversion stage of the FiiO KA2 features two Cirrus Logic CS43131 DAC chips, offering outstanding sound performance. They guarantee accurate reproduction of your music while allowing you to play high-resolution audio streams, up to PCM 32bit 384kHz and DSD256.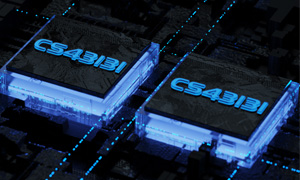 Balanced output
The output of the KA2 is on a balanced 4.4mm jack connector. This one allows taking advantage of higher output power while ensuring a high SNR (131dB) and a low THD+N (0.0005%), favouring a pure and transparent sound.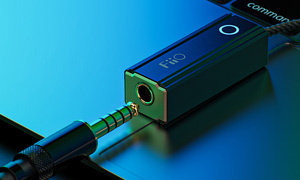 FiiO Control app
The FiiO KA2 is compatible with the free FiiO Control mobile application. This will allow you to easily access, via an intuitive interface, parameters such as gain level, LED indicator management or mute mode.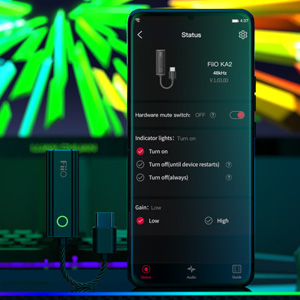 Digital filters
The KA2 offers five different digital filters. These will allow you to adapt its reproduction according to your listening equipment and your tastes.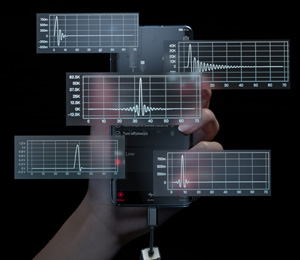 LED Indicator
The FiiO KA2 features a circular RGB LED indicator, allowing you to identify at a glance the type of stream being played:
Blue: PCM 48kHz or below
Yellow: PCM above 48kHz
Green: DSD

Unboxing of FiiOxJadeAudio KA2
Input: 1x Male USB-C / Lightning

Output: 1x Jack 4.4mm balanced output

DAC chip: 2x Cirrus Logic CS43131

Channel balance: < 0.02dB (32Ω, THD+N < 1%)

Supported sampling rates: PCM up to 32bit 384kHz
DSD up to DSD256

Output power: 112mW @ 16Ω, THD+N < 1%
153mW @ 32Ω, THD+N < 1%
54mW @ 300Ω, THD+N < 1%
27mW @ 600Ω, THD+N < 1%

Output amplitude: 2.2V (32Ω, THD+N < 1%)

Frequency response: 20Hz - 20kHz (courbe d'amplitude ±0.03dB)
20Hz - 50kHz (courbe d'amplitude ±0.05dB)

Channel separation: ≥ 91dB (1kHz, 32Ω)

Output impedance: < 0.5Ω (32Ω)

SNR: ≥ 125dB (32Ω, A-Weighted)
≥ 131.2dB (600Ω, A-Weighted)

Noise floor: < 1.1µV (32Ω, A-Weighted)
< 1.05µV (600Ω, A-Weighted)

THD+N: < 0.00036% (32Ω)
< 0.00023% (600Ω)
< 0.00024% (32Ω, A-Weighted)
< 0.00014% (600Ω, A-Weighted)

Warranty Period: 1 Year
Warranty Period: 1 Year from the date of Invoice
Covered: Manufacturing Defects Only
Website: https://www.fiio.co.in/pages/service-details
Contact No: 9870294946
Email Id: service@originmarketing.in
FiiO, a popular China-based brand offering a wide range of audio products including Earbuds, Earphones, In-ear monitors, Cables for IEMs and Headphones, audio adapters, DAC & amplifiers, and Digital Audio Players. Explore the world of high-quality audio with FiiO.
⚡️ Power Output Wise AMP & DAC Guide
Full marks !!
This is like tiny and has ton of power !! Tonally neutral with tiny tiny hint of bass boost and highly resolving pretty much pairs well with everything even with planar headphones. Most important the power like it drives my he400i with just 50 percent of power with authority !!
Finally thanks to TAS foe speedy delivery 😁😁
If You Like The FiiO KA2 Portable DAC & Amp You Will Also Like
View all
Trusted By Over 15K+ Music Enthusiast
Are You Struggling To Pick The Right Product For Your Individual Needs?