Check Availability At
Description
Looking for every excess in terms of sound quality and comfort? You won't be disappointed with the HiFiMAN Edition XS. The professionally-tuned Stealth drivers unleash their powerful planar magnetic magic, making every note shine. Enjoy distortion-free, pure sound always.
Pure Sound for Every Moment
The HiFiMAN Edition XS uses the same stealth magnet design as their flagship – the Susvara. Once created, sound waves need to pass through the magnets in the drivers. However, conventional magnets can hinder these waves which generate interference. With HiFiMAN's advanced Stealth design, the magnets are engineered in a special shape that let the waves pass through without interference, rendering them invisible to the sound waves. This reduces the diffraction turbulence that degrades the integrity of the sound waves so that you enjoy pure sound throughout the frequency range.
Experience the Planar Magnetic Magic
HiFiMAN has engineered some of the most renowned planar magnetic headphones. They have used this expertise while designing the Edition XS. The newly developed planar magnetic driver features a neo-ultra-thin diaphragm i.e. an extremely thin diaphragm coil. This delivers a fast response for detailed sound with low distortion.
Designed to Make Every Note Shine
The open-back window-shade grill design of the Edition XS and professionally-tuned sound output creates a stunning surround sound feeling. The bass is deep and hard-hitting while the mids are lush with an energetic treble. In short, experience an outstanding reproduction of your favourite tracks.
Durable & Comfortable
The HiFiMAN Edition XS not only sounds good, it's extremely comfortable too. The headband is redesigned for better comfort and durability. It's similar to their widely acclaimed HE400i headphones.
Model No: EDITION XS
Wearing Style: Open Back Over-Ear
Earpiece Connection: Wired
Bluetooth Version: NA
No. of Drivers: 1
Driver Type: Planar Magnetic
Driver Size: NA
Weight: 405g
Sound pressure level (SPL): NA
Impedance: 18 ohms
Frequency Response: 8-50000Hz
Maximum Power Handling: NA
Sensitivity: 92dB
Codecs: NA
Active Noise Cancellation: NA
Volume Control Function: NA
Microphone: NA
Play Time: NA
Additional Runtime: NA
Battery Capacity: NA
Charging Interface: NA
Audio Jack Size: 3.5mm/6.35mm
Cable Length: 1.2 Meter
Cable Detachable: YES
Connector: NA
Water Resistance: No
Warranty Period: 1 Year
Warranty Period: 1 Year from the date of Invoice
Covered: Manufacturing Defects Only
Contact No: 9986010039 / 080 -48534996
Email Id: customercare@hifiman.com
HIFIMAN is a renowned audio brand founded by Dr Fang Bian, dedicated to serving audiophiles and casual listeners alike. They offer a wide range of personal audio products such as planar headphones, In-ear monitors, DAC & Amplifiers that cater to a diverse range of budgets and lifestyles. Dr Bian's undying commitment to audio innovation and quality is evident in every product that HIFIMAN offers.
Wide!!!
This is a great headphone from Hifiman. I also have the Sundaras which are very balanced sounding but lack sub bass and sounstage width. These are slightly U shaped sound (better for fun listening) and have the widest soundstage I have ever heard from a headphone. Great job Hifiman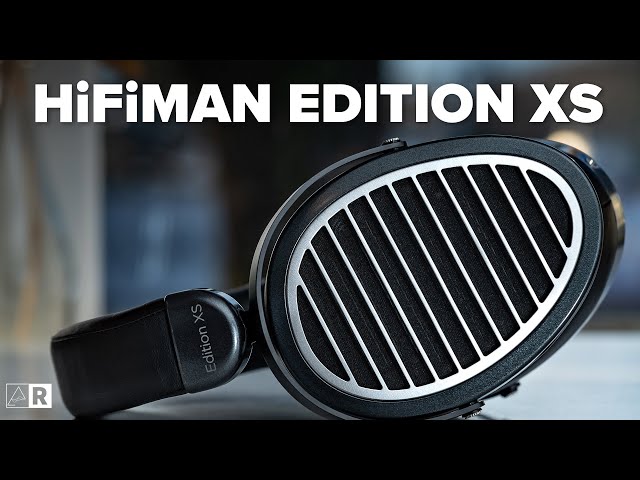 Thank you for the kind words! We're glad you're happy with the HIFIMAN EDITION XS Planar Magnetic Headphone.
Amazing pair of headphone and impressive shopping experience!!
This is the only open back headphone I listened to and fell in love with it immediately while listening to my favorite track "Kannalane" from Bombay !! Impressed with the instrumental separation and wide sound stage.
I had a pleasant shopping experience as well. Pritam helped in picking a balanced 4.4 cable as well as a 3.5mm replacement cable for the headphone. He also kept me posted on the shipment status promptly.
Few concerns I have is with the sock cables, carry case that has to be purchased separately, and a slight creaking noise from the headphone adjustment slider that at times mixes with the music!!
Thank you for the review! We're glad you're enjoying the HIFIMAN EDITION XS Planar Magnetic Headphone.
Mind Blowing, Impressive!
You may be wondering why I wrote 'Mind Blowing' in the heading and still given just 4 stars! Read on...!
I ordered this headphone and it was my first planar IEM/Head phone. After much thought process / analysis, I ordered this headphone although I was worried about the QC of Hifiman headphones as this seemed to be a major issue discussed in many audio forums.
In 2 days I received the Headphone and when I connected to my laptop and checked I did not hear anything from the Right side driver. Thinking there may be issue with the cable, I changed that too with the complimentary balanced cable sent along with the order and checked. Still the issue was there and raised the issue with the 'AudioStore' with a small video. They noted the defect and immediately raised a reverse pick-up from my place and in turn they further checked it and sent the same to Hifiman for replacement.
In the next 2-3 days I got the message a new piece was dispatched.
Received the new piece and when I listened to it after attaching it to a proper DAC/Amp, without my knowledge I was smiling; I have never heard music before with such depth and wide range. Very Impressive. The headphone is huge in size, hence portability will be an issue and it may not be a tight fit for many of us. Even my head is small, but still the fitment was good but you cannot call it tight. It is a perfect headphone to listen at home.
Hope this Hifiman headphone would last long.
Wow, that's amazing! Thank you for sharing your experience with the HIFIMAN EDITION XS Planar Magnetic Headphone. We're glad to hear that you're impressed with the quality of the headphones, and we're excited to hear what you think of them in the long term. Thanks for taking the time to write a review for our product!
Bang for the buck
The journey started with trying out Sundara headphones after a detailed discussion with Mr. Pritam. So I got a home demo for 3 days. Loved the headphones, after listening to music on my Sony XM4s Sundara felt a big step up. But still I felt it needed some EQ tuning with peace software, oratory1990 settings work really well it. But still I felt something was still lacking just a little bit. Had another talk with Mr. Pritam and explained the issue to him in layman's terms because I'm not an expert with technical terms. He suggested I try out Edition XS because the price difference isn't huge but the experience you get out of it more than worth it he said. So I went for another home demo and when I tried these on I understood what Mr. Pritam was saying. The audio stage, instrument seperation, the clarity, everything was just amazing! I don't the technical terms so best I can describe is that I felt I was actually listening to a studio recording. The difference from sundara was night and day and more than worth the price difference. The decision was instant that I'll buy edition XS and they arrived promptly in 2 days. I'm sure nothing can beat these in the 36k price segment, plus the balanced 4.4 mm cables which are given for free are really a must for these kind of headphones. For now I'm pairing it with my portable Fiio Q3 dac/amp but I'll give it some time before I get an actual desktop amp for this baby, I'm sure it'll feel like another upgrade then. Many thanks to Mr. Pritam for his expert suggestions and one madam (sorry don't know her name) on the phone who always picked up in two rings, always polite and and seamlessly made the home demo and final purchase happen in the shortest possible time. Highly recommend these headphones and highly recommend Audio Store as the team is very professional. Till my next upgrade, ciao!
Super sound!
Having used the Deva before, I was expecting more, specially in the bass department and I am happy to say I was not disappointed. Excellent soundstage, smooth mids, good sub/mid bass presence. Combined with a great build, its a winner in my books. Fantastic next day delivery by The Audio Store along with free EarAudio 4.4 cable made the deal even better. Sources used - Fiio M11 Pro, Tablet with Topping D10 balances + XDuoo MT604.
Endgame Planar
The HiFiMan Edition XS is a considerable improvement over the Sundara. The fit is certainly more comfortable than the Sundara; prolonged hearing on the Sundara could become challenging at times, the weight and the clamp pressure could often led to discomfort. Experienced no such issues with the Edition XS. Soundwise - the Edition XS addresses the Sundara's greatest weakness - bass response. The Edition XS has ample bass. It is also very detailed but not clinical - thoroughly enjoyable. Definitely worth the additional cost when compared to the Sundara
Audiophile Inspiration: Real stories of Dedication and Passion
View all
Trusted By Over 20K+ Music Enthusiast
Let customers speak for us