Description
TWS high-definition Bluetooth upgrade earhooks, support AAC audio encoding transmission, professional sound quality comes from the dual protection of chip blessing and AAC advanced encoding capabilities. Adopt AAC advanced audio coding transmission technology to greatly improve the quality of hearing and bring natural and clear sound.

The earhook battery capacity is 50mA, the charging compartment battery capacity is 800mA, the earhook can be used for about 6 hours when it is fully charged, and the charging compartment can last 7 times. Small body, multiple core functions.

Using RTL8753 Bluetooth 5.2 chip, transmission is a more stable, high-performance mode. Compared with the 5.0 version of the chip, the power consumption is lower and it brings longer battery life. 2PIN pluggable design, 0.75mm gold-plated pin, the earphone can be turned into a wireless earphone in seconds, getting rid of the wire shackles.

Ergonomic design. The structure is optimized according to the contour of the outer ear, and the design is ergonomic. Reduce weight and improve wearing comfort. A high-purity oxygen-free copper silver-plated wire is used inside the earhook to ensure the lossless transmission of audio signals.

Eliminate conventional single host, dual-channel transmission, lower latency, two earhooks can be connected to the same mobile phone at the same time, earhooks can be used individually. When you are ready to enter the game, press the button on the earhook three times to enter the high-performance game mode. The sound signal is transmitted faster.
Compatible Models - ZSX/ ZSN/ ZSN PRO/ ZSN PRO X/ ZS10 PRO/ ZAS/ AS12/ AS16/ ZAX/ DQ6

Not Compatible Models - ZST/ ZSR/ ED12/ ES3/ ES4/ ZS10/ AS06/ AS10/ BA10/ ZST X
Product Name: KZ AZ09
Bluetooth version: 5.2
Bluetooth range: 15m
Ear hook weight: 4.5g (single)
Weight of charging case: 85g
Ear hook battery capacity: 50mA
Charging case battery capacity: 800mA
Warranty Period: 1 Year
*This product is for Bluetooth upgrades only. Sold without earphones
Warranty Period: 1 Year from the date of Invoice
Covered: Manufacturing Defects Only
Warranty Form: https://www.theaudiostore.in/pages/warranty-claim-form
KZ originated, in 2013 advocated ultimate, fashion and simplicity focusing on the faith of revolutionary pursuit ultimate attitude forward life.
wired to TWS
overall a cool tws module to own for your .75mm and .78mm interface iems.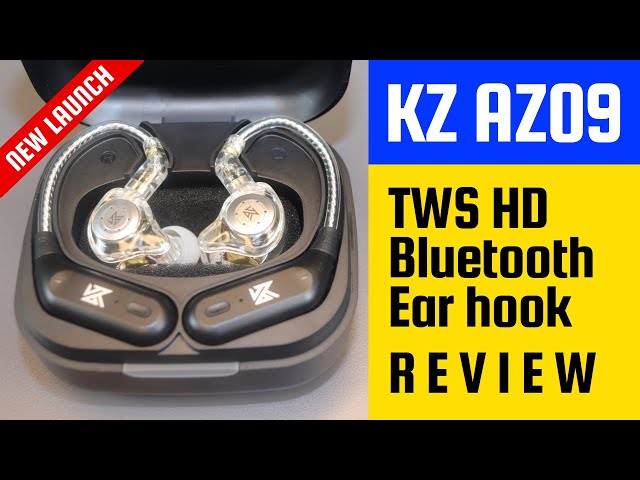 Really Good
Fits really well and sounds good
Are You Struggling To Pick The Right Product For Your Individual Needs?