Description
With the aim to satisfy every avid music listener, the TinHiFi T3 Plus is here. This IEM has been tuned to achieve the perfect balance – in sound and design. Its high-quality build and technology are used to make sure that it's perfect for everyday use.
Tuned to Perfection
The all-new TinHiFi T3 Plus uses the latest Liquid Crystal Polymer (LCP) diaphragm for its drivers. This diaphragm is known for its responsitivity and surface tension that uses an integrative carbon network structure within the polymer compound. This enhances the resolution for lower harmonic distortion and faster attacks. It is tuned to deliver a total harmonic balance in the sound signature. This ensures a powerful bass, natural mids and comfortable treble.
Gorgeous & Comfortable
Expect supreme comfort, an incredible fit and stunning design with the T3 Plus' housings. These are crafted from resin and based on computer simulations of human ears using 3D printing technology. A gorgeous marble texture was selected for the faceplate. Each IEM is meticulously crafted by hand before it undergoes a UV finishing treatment.
Cables that Match!
Get the best cable for your IEM with the TinHiFi T3 Plus. The exquisite 4-core 2.8mm diameter 40/0.05 oxygen-free copper wires are insulated with 200D Kevlar. The cable terminates with a standard 3.5mm jack that can be used with almost any mobile device.
Model No: T3 Plus
Wearing Style: In-Ear
Earpiece Connection: Wired
Bluetooth Version: NA
No. of Drivers: 1
Driver Type: LCP Diaphragm Driver
Driver Size: 10mm
Weight: NA
Sound pressure level (SPL): NA
Impedance: 32 ohms
Frequency Response: 10-20000Hz
Maximum Power Handling: 5mW
Sensitivity: 105±3dB @1kHz 0.179V
Codecs: NA
Active Noise Cancellation: NA
Volume Control Function: NA
Microphone: NA
Play Time: NA
Additional Runtime: NA
Battery Capacity: NA
Charging Interface: NA
Audio Jack Size: 3.5mm
Cable Length: 1.2m
Cable Detachable: YES
Connector: 0.78mm 2 Pin
Water Resistance: No
Warranty Period: 1 Year
Warranty Period: 1 Year from the date of Invoice
Covered: Manufacturing Defects Only
Warranty Form: https://www.theaudiostore.in/pages/warranty-claim-form
TRI is a high-end audio brand that specializes in creating in-ear monitors (IEMs), upgrade cables, portable DACs and amplifiers and audio adapters. The brand was founded in 2018 by the KBEAR founders team and a Japanese designer to provide the global music market with immersive music experiences. TRI's products are designed to deliver high-quality audio performance and exceptional comfort, making them a popular choice among audiophiles and music enthusiasts alike.
Best in segment
I've just received these today, and i can immediately tell these are best in segment. Well balanced, just wished that cable provided was also good one.
good
Compared to my kz zsn pro they far better and pleasent listening experience but they could have provided a better cable then what they have .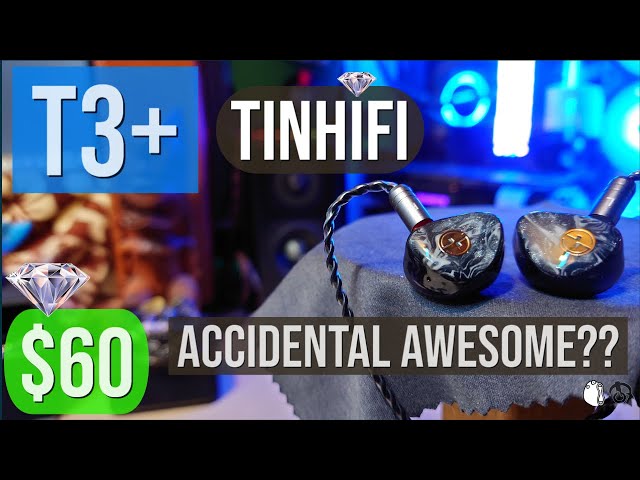 Excellent
Bang for the buck! Neutral sound signature with good vocals
good for the price
warm and smooth sounding iem with very comfortable fit.
Amazing, Mids could have been better.
Absolute bang for the buck IEMs, My daily drivers now and they isolate noise so well with the right tips.
A beginner audiophile IEM
Basically I love bass, Electronic music, Piano and guitar instrumental details. Seeing multiple youtube videos comparing the beginner audiophile kings - the Moondrop Aria and Tinhifi T3 plus - I was eagerly waiting for this to be back on stock. When I get an email from the audio store saying it was back on stock, I bought this immediately at a heartbeat. Man am I pleasantly surprised with this IEM. This is a damn good upgrade for me from my previous CCA CRA(I know my previous bar was too low 😜).
Packaging - Premium with included foam tips, though I prefer my Spinfits. 5/5
Design - I love the design of these earphones, that marble texture looks nice and quality is also good, I've dinged them quite a few times already, but no damage at all.
Comfort - I have a few gripes with comfort, I feel like these have very long nozzles and they go deep inside my ear... So extended listening is difficult for me,but not bad though. 3/5
Sound quality - so coming to the main reason I bought these, I'm not an expert audiophile by any means but I do love my music. The sound feels very dynamic and engaging - good details especially music with bass feels alive. I could hear some amount of tiny details better than my previous experiences with other IEMS. Soundstage is very average though.
I use these with my Qudelix-5k Bluetooth Dac. Overall I love it.
My previous IEMs - Samsung galaxy buds pro, CCA CRA, 1more Stylish, 1more Piston, KZ ZS3, Tennmak Pro
Frequently Bought Together
Trusted By Over 15K+ Music Enthusiast
Are You Struggling To Pick The Right Product For Your Individual Needs?