Description
Add a new dynamic to your music with the TRN MT1 professional in-ear monitors. Its powerful dynamic drivers feature a silicone crystal composite bio-cellulose diaphragm that delivers crisp details throughout the frequency range. The eco-friendly housings add a touch of class to this IEM that looks as great as it sounds.

Powerful Sound for Professional IEMs
The TRN MT1's powerful dual-magnet dynamic driver has a magnetic flux that's close to 1 Tesla, almost 55% higher than conventional drivers. The silicone crystal composite bio-cellulose diaphragm is 2 times more efficient than regular bio-cellulose diaphragms making this IEM very easy to drive. Expect more energy in your music, better resolution and faster transient response.

Designed for Perfection
The TRN MT1 has been designed after studying lots of data on the human ear for a secure and comfortable fit. The imported eco-friendly polycarbonate material used in the IEM looks gorgeous. The high gloss finish glitters under translucent light, giving it a magical appearance. It suppresses the reflection of sound waves for a mellow tone without any harshness.

Durable and Upgradable
The cable comes with an over-the-ear hook for securing the earbuds and keeping them in place through most activities. The newly improved 2-pin connectors are gold-plated for added durability. The detachable nature makes upgrades very easy.

Model No: MT1
Wearing Style: In-Ear
Earpiece Connection: Wired
Bluetooth Version: NA
No. of Drivers: 1
Driver Type: 1 Dynamic Driver
Driver Size: 10 MM
Weight: 8.2 g
Sound pressure level (SPL): NA
Impedance: 22 ohms
Frequency Response: 20-20000Hz
Maximum Power Handling: NA
Sensitivity: 106+2dB
Codecs: NA
Active Noise Cancellation: NA
Volume Control Function: NA
Microphone: YES
Play Time: NA
Additional Runtime: NA
Battery Capacity: NA
Charging Interface: NA
Audio Jack Size: 3.5mm
Cable Length: NA
Cable Detachable: YES
Connector: 0.78 mm 2-pin
Water Resistance: No
Warranty Period: 1 Year

In The Box:
1 Pair MT1 Earbuds
1U Cable
3 Pair Eatips
Warranty Period: 1 Year from the date of Invoice
Covered: Manufacturing Defects Only
Warranty Form: https://www.theaudiostore.in/pages/warranty-claim-form
TRN is engaged in HI-FI (high fidelity) Earphones, IEMs, TWS Bluetooth headphones and high-tech enterprises in related fields. Now, it is a collection of independent brand products, ODM and OEM. Every TRN product has a headphone enthusiast involved in the development process to ensure that its products have the best performance and durability.
Very good
It's excellent... Am very happy and satisfied...
A good balanced iem
It's a good one who loves neutral sound signature. If you want more then go for Edx pro.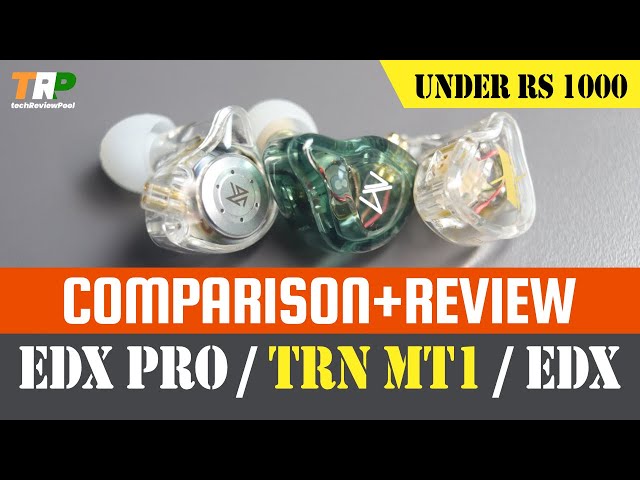 VFM iem under budget
This iem has good fitting and BUILD quality. SOUND WISE WORTH YOUR MONEY,...paisa vasool product , EAR tips are also very nice. U can go for it as smooth sounding earphones.
Amazing IEM to begin with
I bought it with a lot of speculation about the brand and the product stood out exceptionally well. So far durable and good to listen wide range of frequencies. Hope it lasts long by its sturdy looks. This is my first purchase here at Audio store.
I must tell about the delivery of the audio store - Lightening fast in just 2 days from one end of India to the other end here.
Frequently Bought Together
Are You Struggling To Pick The Right Product For Your Individual Needs?