Description
Now, movies and games have never sounded better. The Xduoo XD-05 Basic takes audio to the next level for a realistic and exciting experience. It is packed with features that'll keep you up to watch just 'one more' episode or play 'just another' level.
Bring Home the Cinematic Experience
Turn your room into a cinema hall or professional gaming set-up with the Xduoo XD-05 Basic. This DAC/Amp plays high-quality video and game audio to take your experience to the next level. The professional digital and analogue circuits give you a surround sound effect on speakers as well as headphones. It is compatible with desktops, PS4, Xbox, tablets and other smart devices and gaming platforms.
Play High-Quality Audio Always
The Xduoo XD-05 Basic uses an ESS9018K2M DAC that supports a sample rate of up to PCM 32-bit/384kHz and up to DSD256 playback. The best part? This DAC/Amp can extensively optimise low bit-rate files to upgrade them to 48KHz/96KHz/192KHz with its SRC function.
Works with All Kinds of Headphones
Drive power-hungry headphones as well as sensitive IEMs with the OP+ClassA amplifier circuit. With its ability to drive headphones between 16Ω-600Ω, it's highly popular among audiophiles. To further optimise the audio playback, the output uses an on-demand system that reduces distortion and background noise even at high volumes. You can even replace the operational amplifier to tweak the sound quality.
Take Your Entertainment to the Next Level
The Xduoo XD-05 Basic offers 4 PCM digital recorders and 3 DSD digital filters to play different sound effects, including warmth, transparency and detail. The hardware-accelerated bass switch adds that necessary low-end delight that makes video games and movies sound all the more power-packed.
Designed for Binge-Watchers
While the Xduoo XD-05 Basic can be easily plugged into an external power supply like a USB charger or power bank, the built-in 3.7V/4000mAh battery runs for up to 9 hours on a single charge. The volume knob comes with a backlight that shows the battery status, even in dim light. The 0.91-inch OLED display shows other details, including the sampling rate, power, DAC filter status and input interface clearly.
Model No: XD05 Basic
Audio processor: ESS9018K2M
Gain: + 6dB/9dB/16dB
Signal to noise ratio (SNR) : 115dB
BASS upgrade: 0/+6 db
Frequency response:
USB/FIBER/COAXIAL: 20Hz ~ 20 kHz (±0.5 dB)
AMP:10 Hz~60kHz(±0.5dB)
USB : 0.0025%@1kHz Coaxial: 0.0025%@1kHz
Optical Fiber: 0.0025%@1kHZ
AUX IN: 0.0018%@1kHz
Maximum output power: 500mW (32Ω load)
Resolution: ≥75dB
Charging time: fast charge 1.2A ≤5 hours slow charge 500MA ≤11 hours
Endurance time: USB IN ≥9h AUX IN ≥16H coaxial/optical fiber ≥12H
PCM: 16-32bit/44.1-384kHz
DSD: DOP/NATIVE mode, DSD64-256
DXD:24-32 bit/352.8-384kHz
Optical Fiber/COAXIAL support sampling rate: PCM: 16-24 bit/44.1-192 Khz
Applicable system: Win 7, Win 8, Win 10, Mac OS X, IOS, Android
Warranty Period: 1 Year

In The Box
1U XD05 Basic
1U Type-C USB Cable
1U Type-C TO TYPE-C USB OTG Cable
1U Type-C TO MICRO USB OTG Cable
1U 6.5 to 3.5mm Converter
10U Silicone foot pads
1U Magic Stick
1U User Manual
1U Warranty Card
Warranty Period: 1 Year from the date of Invoice
Covered: Manufacturing Defects Only
Warranty Form: https://www.theaudiostore.in/pages/warranty-claim-form
xDuoo is professional in high-end audio product development; design and sales. They have a strong and profound technical capability, professional knowledge background in the audio field, unique Audio technicians. They are ODM for many well-known brands over the years and win a good reputation and trust in this field. Their main products are headphone amplifier, Audio DAC, PC HI-FI DAC, phone audio DAC, music player, and so on.
⚡️ Power Output Wise AMP & DAC Guide
Brand Name 

Model No

32ohm 3.5mm

32ohm

2.5mm

32ohm

4.4mm

300ohm

600ohm

6.35mm

FiiO

≥ 2000mW

 

≥ 2000mW

BTR7

160mW

320mW

KA1

45mW

KA2

153mW

130mW

 

235mW

80mW/Ch

220mW/Ch

 

25mW

78mW

 

µBTR

10mW

 

 

120mW

200mW

 

160mW

300mW

300mW

Q1 Mark II 

75mW

220mW

 

1500mW

 

 

200mW

 

 

200mW

 

 

Lotoo

70mW/ch

 

120mW/ch

Tempotec

95mW

 

 

60mW

 

 

70mW

 

 

 

 

175mW

80mW

 

 

 

120mW

 

70mw

 

 

Helm

125mW

 

 

111mW/ch

 

 

xDuoo

1000mW

 

 

500mW

 

 

1000mW

 

1000mW

1300mW

 

 

 

 

2000mW

XA-10

3000mW

4000mW

TA-26

500mW

Qudelix

 

HiBy

 110mW

 

340mW

Luxury & Precision

125mW

 

230mW

SMSL

3000mW

 

 

3000mW

 

 

Gustard

 

 

7400mW

Audirect

110mW

240mW

 

62mW

 

 

E1DA

 

320mW

 

180mW

 

 

 

340mW

 

HIDIZS

30mW/Ch

 

 

55mW/Ch

 

 

100mW/Ch

200mW/Ch

 

Tiandirenhe

30mW/Ch

 

 

70mW

 

 

65mW

 

 

80mW

 

 

70mW

 

 

JCALLY

35mW

 

 

AP7

70mW

AP10

90mW

180mW

JM7

65mW

JM35L

35mW

NA 

 

 

65mW

 

 

35mW

 

 

JM6

65mW

Venture Electronics

30mW

 

 

35mW

 

 

65mW

 

 

Megatron

170mW
300mW
300mW

Ovidius

480mW

 

 

Little Dot

100mW

 

350mW

Sennheiser

 

 

9000mw

Moondrop

DAWN

 4.4mm

230mW

Dethonray

1000mW

 

1000mW
A Unique Device At An Unbeatable Price
xDuoo devices have always been different from the herd and the XD-05 is no different. I simply love the fact that you can roll op-amps with this one! Aand it's real easy (multiple videos of YouTube). Right out of the box - switched the op-amp that comes with the device for a Burson v5i. And boy oh boy - this punches waaay above its price now. Both with headphones and with speaker amps. Also love the fact that the 3.5mm port can be used both as Line-In and Line-Out. Can't remember another device that can do this. And to have COAX and Optical support in such a form factor - wow! Overall - I don't think there is any other device that delivers so much performance and so many features at this price. Truly - a hidden gem.
A great multipurpose amp/dac for the beginner audiophile!
I'm in no way an expert audiophile component reviewer, but the XD05 is definitely one of the best amp/dacs I've used to date. I have a TempoTec Sonata HD but I feel that is an unfair comparison. This thing is miles ahead but yes, costs more than twice the cash too. I currently use this on my computer with my Tin Audio T2 Plus and my Sennheiser 599 SE. It sounds so deep and roomy it feels like I'm listening to them for the first time again! The only con I had with this is that there is no setting to switch power/usb connection to one port like a few other portable amp/dacs. Apart from that, stellar in every sense of the word.
I'd definitely urge anyone reading this who is also starting out on their journey to better audio like me to give this a look.
Finally, props to The Audio Store team - I was skeptical of the next-day delivery. But I did get it! Much quicker than their rivals in this space.
A great addition
Pros: A economical Amplifier +DAC with volume control
Cons: Bulky and get heated up
Power packed goodness!
I purchased this to pair with the Hifiman He400se. It powers it perfectly well.
Considering the 500mw @32ohm power rating, I would recommend this product to anyone looking for raw power in transportable unit.
Found my final DAC as of now!
First of all, a big thanks to theaudiostore.in guys, they are very helpful and I always get my shipment the next day, super fast shipping :) 🚀
I'd used Schiit multibit's ... yes two of them in a row. Those were just DACs with no headphone amp and no preamp and had only USB input. That was at an insane 25k price and I really found that overpriced in today's competition.
Then I bought Maverick Audio D2, which was my first Tube DAC and I was so impressed by the tube's signature. For the last 2 years, I've been using Fiio K3 and it's a great DAC..then I had my eyes on Xduoo XDO5 Basic and finally bought it, just because it's bundled with a lot of features and ample inputs for your source.
Wanted to go for the PLUS version but it seems like out of my budget and so I bought the BASIC variant finally :)
I found my money invested well. The DAC is a very sturdy build, solid RED knob worked for gain and on/off switch. The .91" OLED screen is super crisp that show you lots of live sample rate you are listening at, shows you the battery state and what input you are using.
At the back, it has USB in / optical in / aux in and line out for a lot of choices you can use.
It has ESS Sabre chip ES9018K2M which is slightly bright and ESS are known for little bright signature but that doesn't harsh to your ears, instrument separation is very good, has a deep bass.
Quite good wide sound stage. AMP is an added advantage for high impedance headphones like Beyerdynamics DT 990 Pro.
Has a 4000mAH lithium-polymer battery that gives you 9/12/16 hours of backup depending on what input you are using. Can be charged in 4 hours by a good adapter and take 11 hours when you charge it via PC.
Overall I really recommend this DAC..budget-friendly, good and wide sound stage, solid build :)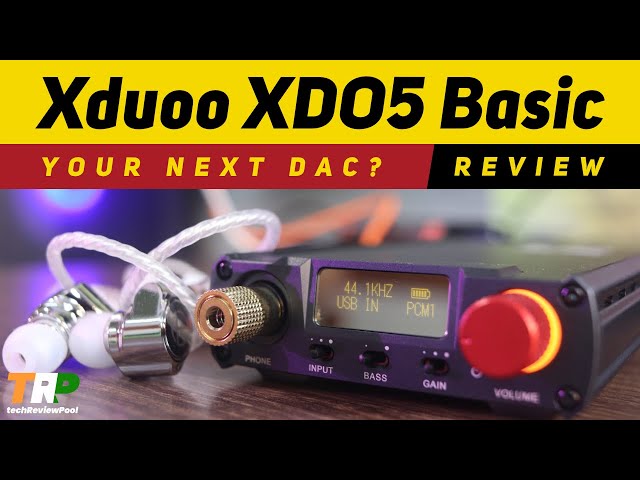 Solid Performer
I was on the lookout for a portable DAC/AMP for my phone and DAP; that I could carry around and use in my home as an alternative to my Schiit stack. Most of the promising performers like Hidizs S9 and Lotoo PAW; cost almost the same as XD-05 while offering lesser power and features. While I do not prioritize portability the most, XD-05 came through the foremost choice. It does justice to my K712 Pro and brings life to all of my IEMs.
The battery is solid, lasts a good day of constant usage. Overnight charging and good to go in the morning. Their 3 inputs, I used the Analog input the most; sadly the package doesn't include a 3.5 mm Jack to Jack; which otherwise is quite nice.
When connected to a PC, I could simultaneously charge and use it as DAC/AMP, which highlights the versatility of this device. The device can upsample audio files to a 48, 96 or 192 kHz; through the SRC button. I didn't find Filters to be game-changing and introduce very minor sonic nuances, I could detect when plugged to my full-sized headphone.
The front panel switches are very delicate looking but offer a good tactile feel when used. The bass boost only up-shelves frequency below 400 Hz, which is appreciated. The gain switches are having 3 modes, the first two offer not much gain while the 3rd one does a lot. The volume button is has a slight resistance to it, which is satisfying to use. The backlight is a nice touch and can be switched off.
No complaints whatsoever. This is much better than those USB DAC/AMPs which I originally intended to buy. Though this is not pocketable like the USB DAC/AMPs, it can be carried around in a bag and used in-flight/train. There are openings in the grill so I suggest carrying the device in a pouch/sleeve.
As for TheAudioStore, they packed the device well, and I received it within 72 hours of ordering. Kudos to the Team!
If You Like The xDuoo XD-05 Basic Portable Headphone Amplifier/DAC You Will Also Like
View all
Trusted By Over 12K+ Music Enthusiast
Are You Struggling To Pick The Right Product For Your Individual Needs?