Check Availability At
Description
Available in three sizes; Compatible the nozzle diameter for 4.8mm-6.4mm

Combination of Softness and Elasticity Medical-Grade Silica Gel Material

Spring Tips ensures the surface of the Tips cap fits well to the ear canal and prevents stickiness through special mould treatment. The picky selected soft silicone material makes the comfort far exceeds that of similar products, and meanwhile, adds a radial double support structure to avoid the collapse of the Tips cap and prevent the bass leakage.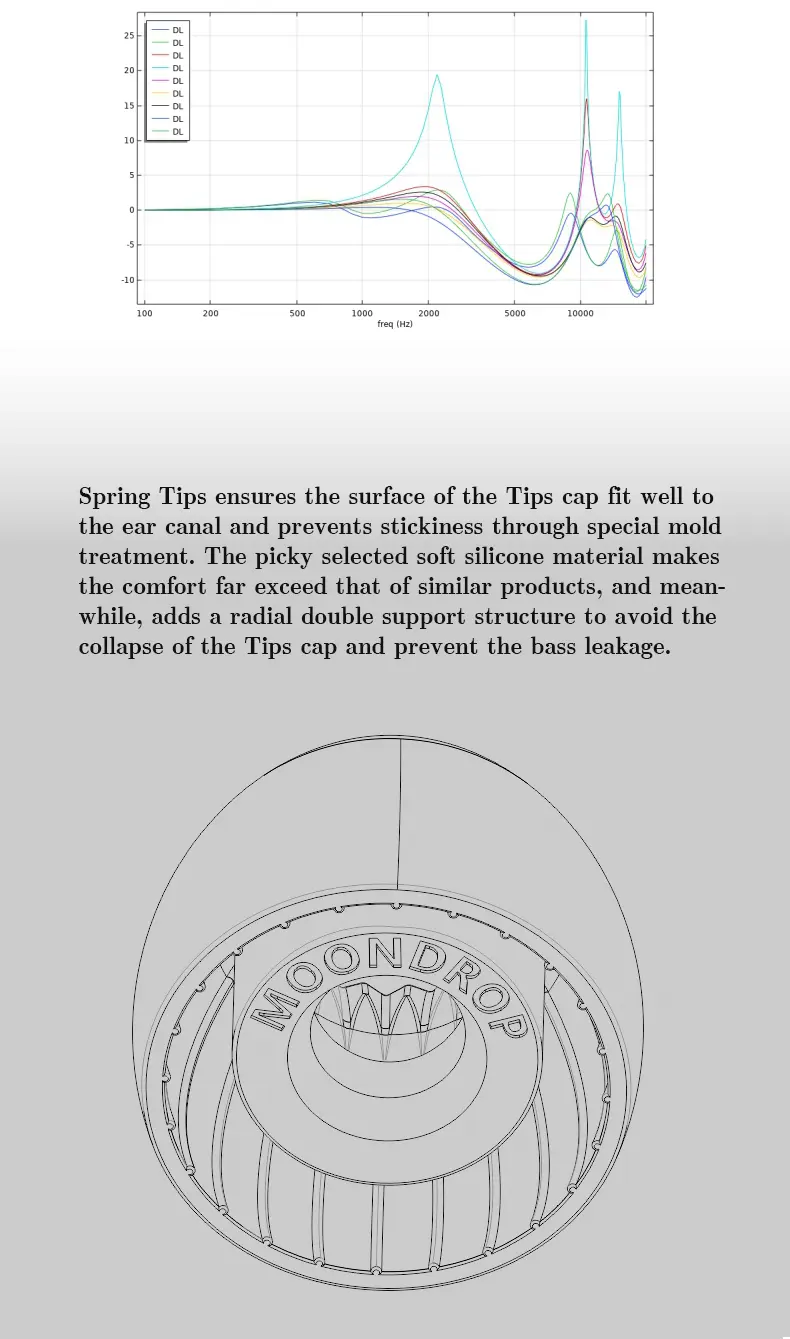 MOONDROP is a China-based audiophile products developer that has gained immense popularity for its range of high-quality audio products. The brand offers a wide range of products such as in-ear monitors, earphones, headphones, portable DACs, upgrade cables for IEMs, and eartips. MOONDROP products are known for their exceptional sound quality and excellent build quality, making them an ideal choice for audiophiles who demand the best from their audio gear. Whether you are a casual listener or a seasoned audiophile, MOONDROP has something for everyone.
The Best
best seal. a bit expensive but it has no competition.
Thank you for the positive review of the Moondrop Spring Soft Silicone Eartips! We're glad to hear that they provide the best seal and are a bit more expensive, but we believe they're worth the investment. Enjoy your music!
Thank you for the review! We're glad to hear that the tips are comfortable and provide good sound quality.
Great tips
I got this for my T3 Plus and was looking for a eartip that would blunt the slightly spicy treble without sacrificing details. It worked wonderfully and also added a bit of low end thump. Super comfortable for extended listen, even more than my spinfit 100s. I would imagine these will pair well with brighter iems like S12 and IE600. Choose L if you normally go for ML in other brands.
Finally found my favourite set of tips!
They are so soft that you will feel like there are no iem's. They attenuate the sound to a comfortable and leasure signature. Reduces the harshness of treble.
Got the Medium size
Got the medium size but its actually medium small. Anyone using medium large should get large ones.
Wide Bored Tips, Works well with IEM's with long nozzle
Be aware that this can cause fit issues with IEMs having short nozzle like the Timeless as this tips tries to keep the nozzle as close to ear canal as possible.
It is a perfect match for those IEM's which could reduce a little bass.
Audiophile Inspiration: Real stories of Dedication and Passion
View all
Trusted By Over 15K+ Music Enthusiast
Let customers speak for us