Description
ZERO means eternity and limitless. With this IEM, 7Hz Type-C Plug with Mic aims to let the listener enjoy endless possibilities and imagination. Equipped with a 10mm driver and a gorgeous design, it's only the beginning for audio lovers.
Zero is Name, 10mm by Fame
The 10mm dynamic driver is fitted with a metal composite diaphragm, crafted with high-quality materials to make it easier to resonate or vibrate with the sound waves. A N52 magnet is precisely tuned for efficient signal transmission. Together, they ensure that there's no hindrance in the audio transmission for smooth, distortion-free audio.

Friendly to the Environment & Your Ears
This IEM uses an environment-friendly plastic chassis with a stainless steel faceplate in technicolour options for a vibrant look. The housing was developed using precise measurements based on ergonomic data for excellent acoustic performance, comfort and durability.

Zero Connectivity Issues
The 7Hz Salnotes Zero comes with a detachable cable with gold-plated 0.78mm 2-pin connectors. The 4-core high-purity OFC cable is made of 19*0.08 wires+250D and is set parallelly to ensure high-fidelity audio transmission and low signal loss.
Note- The calling function may not support all phones. 


Model: 7Hz Salnotes Zero
Driver: 10mm dynamic driver
Impedance: >32ohm
Sound pressure level: 108dB/v@1kHz
Frequency response range: 10-20000Hz
THD: <1%/1khz
Cable connector: detachable 0.78mm 2Pin
Plug: Type-C
Microphone: Yes
Warranty Period: 1 Year
Warranty Period: 1 Year from the date of Invoice
Covered: Manufacturing Defects Only
Warranty Form: https://www.theaudiostore.in/pages/warranty-claim-form
Best iem under 50 dollar
If you buy this iem you will not feel betray. Worth the money
Uncomfortable, Fatiguing.
Fair amount of soundstage. Good sound quality. Also had compatibility issus with mic on call with Galaxy S8. So better choose the 3.5mm version. These are very uncomfortable cans. Had to resell it sadly because of that.
Great buy. Worth the cost.
I expected better isolation but this is still good enough. These are my first IEMs and I must say I'm happy i paid 2k... totally worth it. More than anything, the clarity is so damn good. Thank you audio store for such a quick delivery and also to keep the type c variant in your collection. Respect.
Audiophile Paradise
I read/saw lots of hype about 7hz Salnotes zero on youtube and evein on websites being one of the cheapest audiophile IEM and decided to buy. But my phone didnt had 3.5 mm jack so didn't go as the original ones even other site have is without mic and 3.5 mm jack. Saw The Audio Store 7Hz zero with Type -C and mic and bought immediately(wanted the black one but sadly it went out of stock while ordering).
Packaging was nice but had a issue in razorpay system hanging with ICICI and Axis bank credit cards.
I have CCA NRA but i will denitely say its just awesone and true to the hype. I am not a bass heads but with proper equaliser i can hear the mids and lows with clarity.
I would recommend this to all.
Best IEM budget earphones
Very happy with the performance of this budget IEM earphones, this is definitely worth it. Will recommend to my friends and family members
The best buck for your money
I have used quite a few earphones but these are really well balanced and in the price its a aaya steal deal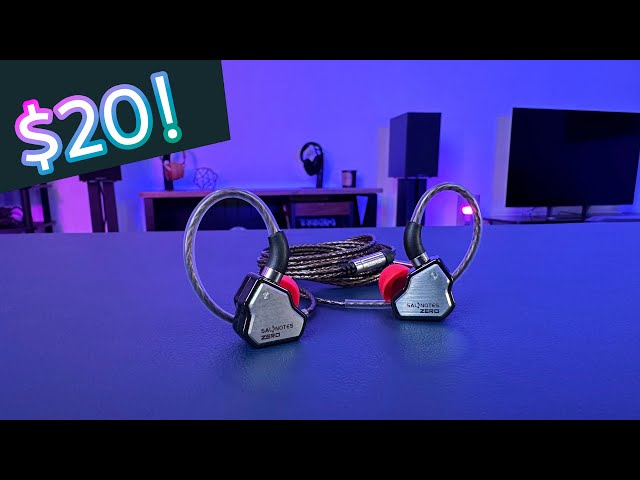 Frequently Bought Together
Trusted By Over 12K+ Music Enthusiast
Are You Struggling To Pick The Right Product For Your Individual Needs?