Description
Enjoy the true sound of music with the Sennheiser IE 900. This IEM features 7mm TrueResponse drivers with the new XR3 technology for brilliant treble, powerful lows and clear mids. The high-quality build is designed to last and fit comfortably.
Hear Every Detail
Experience the finest nuance in your music with the Sennheiser IE 900. And, it's not just the tonality of each instrument that is clearly audible, but also the acoustic properties of the room. Immerse yourself in a vast soundstage without any distracting peaks or troughs. An acoustic back volume – a small chamber within another chamber – is used to manage the slope and amplitude of the bass lift. It controls the overall volume and direction of the air as it moves through the driver unit. The end result: Disciplined bass with uncoloured mids.

Built for Brilliance
With the IE 900, Sennheiser has left no stone unturned. The German designed and engineered 7mm TrueResponse transducers offer brilliant treble, powerful lows and clear mids. The drivers are well-tuned to avoid sibilance and overpowering any one frequency. The warmth only adds that much-needed life to your music. The combination of a variety of acoustic materials in the diaphragm ensures a precise transient response and detailed audio experience.

Designed for Pure Sound
The new XR3 technology uses a system of 3 Helmholtz resonators. These are milled right into the solid aluminium housing. The tiny channels in this system prevent resonance peaks that colour the sound. A vortex structure in the nozzle swirls acoustic energy in the frequency bands to smoothen unwanted peaks. Together, these high-end technologies deliver incredible balance and transparency to your music.

Precise Build for Precise Sound
The Sennheiser IE 900 does not shy away from making a statement with its high-class housings. Each one has been cut from a single block of aluminium using 5-axis CNC machined precision. This enhances the electro-acoustic components of the IEM. Once anodized, it is highly resistant to wear and corrosion. The end result? A work of pure art.

IEMs that Fit Seamlessly
Working musicians require IEMs that fit well. And, we took inspiration from this and translated it into IE 900's form factor. Silicone ear adapters and elastic foam ear adapter sets in three different sizes adapt to the natural shape of your ear for a tailored fit. It does away with uncomfortable sibilance or resonance, letting you enjoy your music just the way the artist intended.

The Perfect Connection
Apart from its sonic properties, a great IEM also offers unmatched durability and reliability. The recessed, 4.8mm-wide MMCX sockets ensure outstanding strain relief. The para-aramid reinforced cable is rated for thousands of bend cycles and terminate with gold-plated Fidelity + MMCX cable connectors on one end and a 3.5mm stereo plug on the other. For audio lovers looking to plug their IEMs into hi-fi audio devices, the IE 900 also comes with symmetrical 2.5mm and 4.4mm cables. The serialised case keeps it safe when on the go.

Model No: IE 900
Wearing Style: In-Ear
Earpiece Connection: Wired
Bluetooth Version: NA
No. of Drivers: 1
Driver Type: Single Dynamic Driver
Driver Size: 7mm
Weight: 4gm
Sound pressure level (SPL): 123 DB (1 KHz, 1 Vrms)
Impedance: 16ohm
Frequency Response: 5 Hz – 48,000 Hz (-10 DB)
Maximum Power Handling: NA
Sensitivity: 123 DB (1 KHz, 1 Vrms)
Codecs: NA
Active Noise Cancellation: NA
Volume Control Function: NA
Microphone: NA
Play Time: NA
Additional Runtime: NA
Battery Capacity: NA
Charging Interface: NA
Audio Jack Size: 2.5 mm
3.5 mm
4.4 mm
Cable Length: 1.25 m
Cable Detachable: YES
Connector: Fidelity (+) MMCX
Water Resistance: NA
Warranty Period: 2 Year

In The Box
1U IE 900 in-ear headphones
1U Balanced para-aramid reinforced cable with 2.5mm connector
1U Unbalanced para-aramid reinforced cable with 3.5mm connector
1U Balanced para-aramid reinforced cable with 4.4mm connector
3 pairs of silicone ear adapters (S, M, L)
3 pairs of foam ear adapters (S, M, L)
1U Premium carry case with metal serial no. plate
1U Cable clip, Cleaning tool & Cleaning cloth
1U Presentation box with signed customer certificate & User manuals
Warranty Period: 2 Year from the date of Invoice
Covered: Manufacturing Defects Only
Website: https://en-in.sennheiser.com/service-support-contact-service-centers-in-india
Contact No: 1800 22 36 32
Email Id: in-info@sennheiser.com
Sennheiser is a well-known brand in the audio industry. They offer a wide range of products catering to both audiophiles and casual listeners. Their products include open back and closed back audiophile headphones, in-ear monitors, ANC headphones, and true wireless earbuds. They are known for their exceptional sound quality and durability. Whether you're a professional musician or just a music enthusiast, Sennheiser has something for everyone.
Smooth is the word, to explain how it sounds
I didn't expect this kind of sound from this tiny device. Unboxing was underwhelming compared to fiio iems. The tips are okay if you put it correctly. They need to be put very lightly inside ear canal, not too deep, otherwise the tip will collapse and won't sound good. Sound is more detailed than anything I've ever heard. It doesn't sound fatiguing at all. Like i said, it sounds smooth. The azla sednafit light is the tip to go for. I've tried the spinfit cp100+ as well, but the sednafit light sounds the best. Thanks to mr pritam for helping me get the perfect iem for my taste.
The Amazing All Rounder
Kudos to Pritam sir for the recommendation. A well balanced IEM with a high degree of musicality. My favourite IEM for when I simply want to lose myself in the music and enjoy the show.
Amazing what can be achieved with a single driver.
New Girl Friend need's my Attention :)
No Words for me to say about this IE 900 IEM. Even if I say more it will be very less. That much perfection in sound.
Firstly, I thank my new friend Pritam ( The Audio Store Co-Founder ). He helped me by asking about my taste in music and came up with the best for me. He was a polite person who never tried to sell anything until customer requirement needs it. Very honest in delivering the Info. Thank You, my friend, for the best recommendation. 
IE 900 Wherever you search for review it will 9.9 Rating or 9.5 from Audiophiles. Any website or Video everyone says is the best. It is exactly the same as mentioned on sound. 
Sennheiser has come with their experience on this IE 900 IEM. They are very well built material Aluminum when you put them in-ears feels like nothing was there. Such a good comfortable if you carry on your hands feel noting weight. The first impression of me was comfort. 
Then I started playing with Iphoine 12 + 3.5 Jack + Apple Dongle Jack. It's a very simple setup not used any Dac/Amp then I started playing Dangreos By MJ. I can't really explain my experience with the first impression. 
The instrumental part was Awsome!! Drums have kick bass. Guitar strings will make you simple :) Sound Stage will be like Auditorium. Vocals are a blessing Gift for this IEM. The bass is mindblowing and you keep repeating the song for that kick and experience. 
You play anything it sounds exactly the same as how the musician thought to deliver the end of the listeners. That all will be delivered without any other expensive AMP DAC. That's the beauty of IE 900. 
The big joke is it's a 7 MM Driver don't how they designed this IEM. It can be done only with the experience of 75 Years as a sound engineer like Sennheiser.
Great Job by Sennheiser Team. I really bow for their work.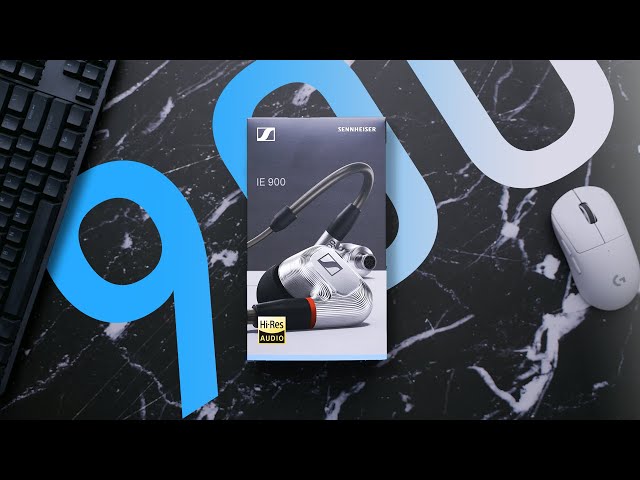 Trusted By Over 15K+ Music Enthusiast
Let customers speak for us